Most houseplants will sit pretty all on their own. Place them in a stylish container, in the right kind of light, and they'll grow to be a happy mainstay of your decor. Other houseplants, such as succulents and air plants, can feel a little more difficult to arrange attractively, but we like to see it as a challenge that opens up possibility for new and exciting opportunities! These clever, fun, and creative projects make putting these easy-to-love plants in the spotlight simple and they can be shared with the family or completed alone, all in comforts of your own home!
Succulents on Display
    The variety of color, size, texture and growth habits of succulents can be super exciting and finding an attractive container for them isn't too hard. Typically, they can still thrive without drainage holes, since they require very little water and they don't have a large root structure, so the depth is not a huge factor. You can essentially use any vessel that appeals to your personal taste, making DIYs all the more possible with these versatile beauties.permanent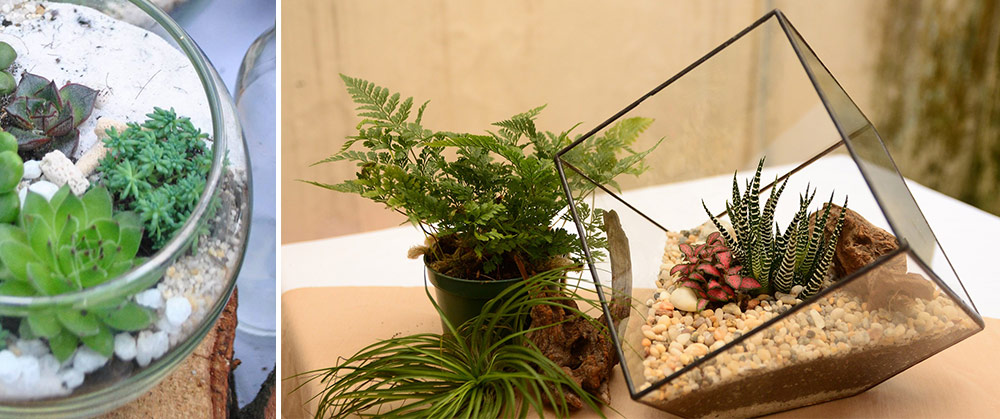 Succulent Window Frame
Like you'd hang your favorite Picasso painting, showcase your love for succulents in a framed piece of art along with decorative moss and any other design elements that suit your fancy. A frame will put a finishing touch to your masterpiece, while helping to hold the plants together. This easy, step-by-step guide explains what materials you should gather and how to put them all together.

Succulent Wreath
    Similar to the window frame, a succulent wreath is another creative way to add living art to your home. If you have succulents that have stretched or lost some of their fully-boldy luster, this is the perfect opportunity to rejuvenate them! Clip the best parts of the succulents from their base, as outlined here, to design a circular arrangement that will last for years!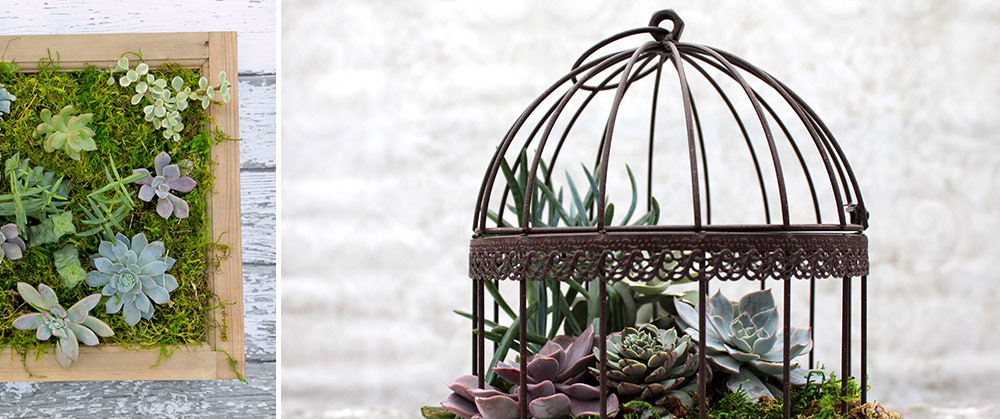 Succulent Bird Cages
    Repurposing a bird cage into a suspended display of succulents is sure to be a conversation piece for all your guests! As mentioned earlier, the depth of a container is secondary to the style of a container when planting succulents. The many openings of a bird cage allow for the use of a variety of plants, such as String of Pearls, Donkey Tail, or other creeping varieties of sedum. Follow this great tutorial to master this crafty look!
Terrariums
The nice thing about a terrarium is that the arrangement is almost self-contained, keeping it somewhat safe from accidental mishaps and curious pets. Plus, with the right container, the display can be really engaging. The glass of of terrariums creates a natural humidity that will keep succulents and air plants happy while adding a beautiful aesthetic of living art.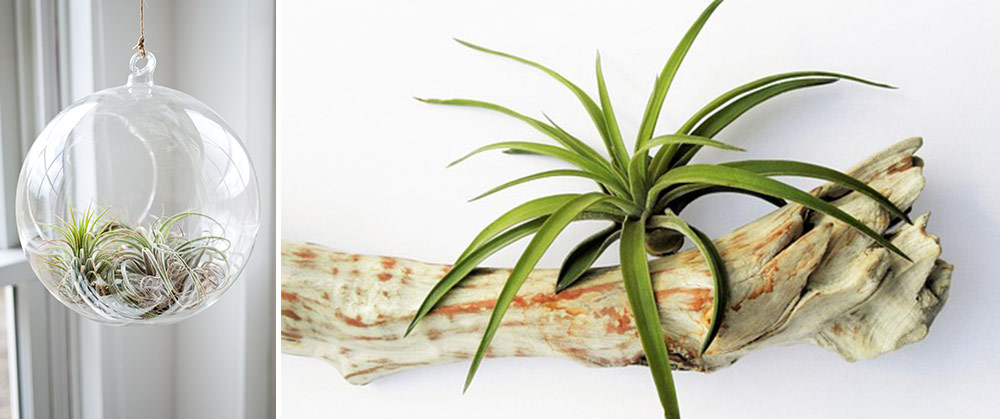 Air Plants In the Air
It's an interesting concept, air plants, just hanging out, in the air, with no need for soil or a container. They can settle into just about any nook, shelf or mini container you have. For smaller air plants, consider grouping them together in a smaller container for maximum effect or placing them into decorative orbs to elevate them.
Set larger air plants, such as Xerographica, in ways to show off their elongating, curly characteristics. Interesting driftwood or attractive pedestals are quick and easy ways to support their tropical personalities and offer a creative, fun, new way to display your love of plants.
Houseplants are a unique opportunity to make a living design that expresses something about us and our home. Rather than wait to try to find the perfect fit in the perfect style, instead you can get involved in making your own statement out of the trendiest houseplants out there.